An hour long interview with Steve Jobs in 1995 was lost to history until its recent discovery in a UK garage. It will soon be shown in theaters in 19 US cities.
The interview with Steve Jobs was done by Robert Cringely, a writer/producer, while putting together a PBS miniseries called "Triumph of the Nerds: The Rise of Accidental Empires," (TOTN).  TOTN was aired in 1996 and explored rise of the personal computer in the 1970's up to the mid 90's and the beginning of the dot-com era.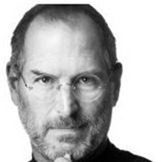 About ten minutes of the interview was used in TOTN. The tapes with the rest of the interview were lost in shipping. It was thought that the un-aired portions of the interview were lost forever.
But in early October, very close to the date of Jobs' death, copies where found by TOTN director Paul Sen in his garage. "This is undoubtedly the only surviving copy of the best TV interview Steve Jobs ever gave yet nobody ever saw," said Cringely of the find.
The interview was stored on VHS. In a blog post dated October 21, Cringely wrote "we've been throwing resolution enhancement voodoo at that tape, trying to get it ready for, well, something, we're not sure what."
That "something" will be here on November 16 and 17. Landmark Theaters has announced they will show the interview in their theater chain. Locations include Atlanta, Baltimore, Berkeley, Boston, Chicago, Dallas, Denver, Houston, Indianapolis, Los Angeles, Milwaukee, Minneapolis, New York, Palo Alto, Philadelphia, San Diego, San Francisco, Seattle, and Washington, D.C.
According to their website, showtimes are 7:15 PM and 9 PM local time in all locations. In Palo Alto, the film will have an extended showing, Nov. 16-22.
"This interview is a moment in time," wrote Cringely in his blog. Referring to a time after Jobs had left Apple, he continued "NeXT was in trouble in 1995, though Steve would never admit it.  Apple, too, was at a low point. And none of us could know that NeXT would be sold to Apple within a year and Steve would be back minding the store in Cupertino shortly after that. No iMac, iPod, iPhone, or iPad were envisioned at that time, or if they were Steve wasn't telling. But that younger Steve of 1995 was very much like the older Steve of 2005 or even 2011 — his devotion to design, to the user, and to bluntly speaking his mind shining through."