The rumors have been circulating for weeks that Apple would have a big event on March 7. Now that actual invitations have been sent out for the event, without saying what it's about, the speculation is at a fever pitch.
Apple, as a company, is a master of building suspense. The leaks have mostly come from its suppliers, or at least that's who's getting the credit/blame for the leaks. Of course, it's possible that it's choreographed by Apple as a way of building momentum coming up to the big announcement.
But just what will that announcement be? Most of the rumors are focused on it being about an iPad 3. And by the looks of the invite, that may be an excellent guess. Here's what the invitation looks like.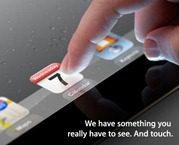 We get the bottom of an apparently very clear touchscreen, with a Wednesday the 7th icon, and a statement saying "We have something you really have to see. And touch." Intriguing.
While some kind of next gen iPad seems the most likely new product, Apple has several other items that are expected out this year as well. Not long ago we reported that the Apple TV set-top box has disappeared from stores. Could that be related to this event?
There've also been reports of a really cool sounding Apple HDTV in the making. Earlier today we reported on a possible Apple streaming service. Both the Apple HDTV and the Apple streaming service are not rumored to be near launch anytime soon, so these appear unlikely to be featured in the March 7 event.
Wednesday's event to start at 10 AM at the The Yerba Buena Center for the Arts in San Francisco. We'll keep you updated here at CP.