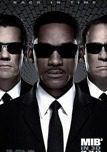 "Men In Black 3" took the top box office spot away from "The Avengers" over the four day Memorial Day weekend.
Industry analysts are reporting that the third installment of the "Men In Black" series cleared $70 million in its North American debut. "The Avengers," which has reigned supreme for the last three weeks in a row, brought in just over $47 million for the four day weekend.
"The Avengers" has earned over a billion dollars worldwide (Forbes reports $1.3 billion to date). It debuted at the end of April overseas, and on May 4 here in the US and Canada. The film ran straight to the top of the box office charts had has stayed there ever since. The release of another potential box office success last weekend, "Battleship," didn't phase "The Avengers" top ranking.
"Men In Black 3" brought in about $203.2 million worldwide. The film brings back Will Smith and Tommy Lee Jones, as agents J and K, in a time-traveling sequel. The critics over at RottenTomatoes.com give the film a 67% 'freshness' rating, and regular movie goers are giving it a 78% 'like it' rating.
According to the box office numbers from Hollywood.com, "Battleship" came in third place at the box office over the weekend, with earnings of $13.8 million domestically. "The Dictator" followed up in forth place with earnings of $11.75 million, and "Dark Shadows" came in fifth with $9.4 million in earnings.