General Motors (GM) is recalling 4873 Chevrolet Sonics in the US and Canada after a Chevy Sonic rental car was brought to a dealer late last month for brake noise. Further inspection found that the car was missing a brake pad. A missing brake pad would still allow the car to stop, but would increase the distance it takes to stop.
According to GM, the research found that between 20 to 30 of the recalled cars were sold without a complete set of brake pads.
GM is mailing notification letters to owners of affected cars, all assembled at the General Motors plant in Orion Township, Michigan, starting January 14, 2012. It will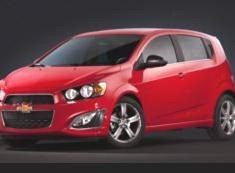 ask owners to bring in their car for a free brake inspection. If it's found to have a missing brake pad, the pad will be replaced. If needed, new calipers and rotors will also be installed.
The 2012 Chevy Sonic is the only subcompact car built in the US. They became available just a few months ago and about 10,000 were sold through the end of November, 2011 (December numbers not in yet). 4,296 of the recalled cars were sold in the US and 577 to customers in Canada, according to GM.
---
Have A Question? Ask Jessica!