We all know that tablets became a big thing in 2011, but just how many tablets were shipped last year is rather stunning.
Research by NPD DisplaySearch has found that an estimated 72.7 million tablets were shipped last year. That's a 256% increase over the number of tablets shipped in 2010. And there's no signs of tablet mania losing steam anytime soon. Analysts at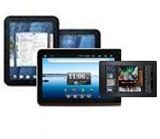 NPD DisplaySearch are projecting that by the year 2017, 383.3 million tablets will be shipped.
Of course, 'shipped' does not always mean 'sold'. But it does give us a big indication of where the market is moving.
Richard Shim, Senior Analyst at NPD DisplaySearch, said of the research: "In the short term, tablet PCs will be the growth accelerant in the overall mobile PC market, as macroeconomic factors and hard drive motor supply issues impact the market for notebook PCs. In the longer term, notebook PC shipments will bounce back as ASPs continue to decline, Windows 8 launches, and new form factors, such as ultrabooks, continue to emerge."
Just how far off is "longer term"? The report went on to say that sales of mobile PCs in general, such as tablets, laptops and ultrabooks, will increase late in 2012 and into 2013 with the introduction of Windows 8 and new mobile processors from Intel.