Parents who use Munchkin pacifiers (or requested them for their baby registries) will need to check make and model numbers because the company has issued a voluntary recall of more than 180,000 pacifiers due to a potential choking hazard.
According to the company, they have received several complaints that the clip cover from their Munchkin Latch Lightweight pacifiers is detaching from the pacifier, which can lead to babies choking.
The pacifiers in question were sold in the U.S. and Canada from March of 2014 until now at major retailers, including Toys 'R' Us, Amazon, Walmart and the Munchkin.com website.
The recalled products bear one of these model numbers: MKFE0391, MKFE0392 and MKFE0393, and come in 5 different styles: designer, rattle and heartbeat clips with zero months plus natural shape pacifiers, and designer and rattle clips with 6 months plus orthodontic pacifiers.
You can locate the model number either on the back of the package if it is new or on the label sewn onto the strap of the pacifier clip (see image below).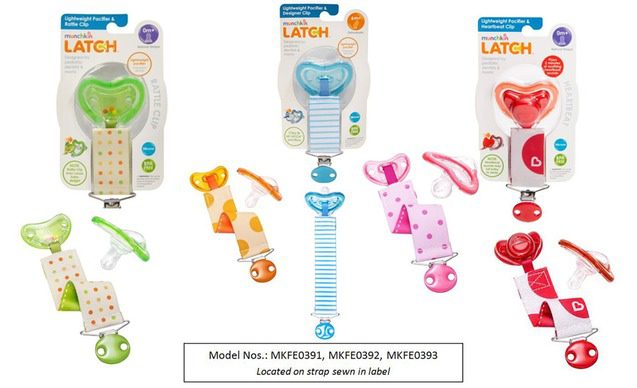 According to the official recall notice from The U.S. Consumer Product Safety Commission (CPSC), there are no injuries at this time; Munchkin has received 10 reports on the issue, 5 in the United States and 5 from Canada.
The CPSC advises those who have a recalled pacifier in their possession to stop using it immediately and return it to the manufacturer (Munchkin), not the retailer, for a replacement or refund.
Consumers can choose to either replace the pacifier sets with a 2-pack of the Latch Lightweight Pacifier, packaged without the pacifier cover and clip, or request a full refund on their purchase (between $11-$15).
Anyone with questions or concerns can contact the company at 877-242-3134 or read up on the recall on the company's website.
Do you or someone you know use these pacifiers?
If so, let us know your thoughts or concerns below and be sure to  follow all my latest consumer news reports on Twitter!