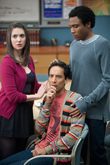 A mere week before its season 4 premiere, NBC pulled their cult-favorite comedy Community from its Oct. 19 premiere date to focus more on their Monday through Wednesday night programming. We covered the news in this article.
There's been no word from NBC on when Community will premiere, but that doesn't mean the cast of Community doesn't have anything to say about it.
In a recent video, the cast of Community got into character and used Troy and Abed's fake morning talk show, "Troy and Abed in the Morning," to explain that they "spoke to the powers that be and…agreed to premiere on October 19th."
Abed continued,"Even though the powers that be agreed to put the premiere on Oct. 19th, they couldn't decide where to put Oct. 19th."
In true Community fashion, Troy and Abed explain that October 19th isn't just a date, "it's a state of mind" and "a feeling within us all." Oct. 19 is not a "when," but a "where."
The video inspired the Twitter hashtag #ThatsOct19 with its examples of how to tell when its October 19th.
Despite the fun video, the question of when Community's fourth season will really premiere still remains unanswered. No matter when (or where) that will be, however, fans of the show will know that day as "October 19."
The aforementioned video can be viewed below.
httpvh://youtu.be/7LV7M_WeGX8
How do you know its October 19? Tell us in the comments below!