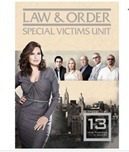 We just got a notice from the NBCUniversal Store that they are having a 20% off everything in the story for the next 4 hours.
The sale started at noon, eastern time, today.
They do say there are some exclusions – but with a quick check, we didn't find any.
What's included – lots of mugs and t-shirts from various shows of course, including from 'Biggest Loser,' 'Ghost Hunters,' 'The Office' and others.
But it gets better – Law & Order: Special Victims Unit – Season 13 on DVD, is available for preordering – normally $60, with the discount it is $47.98.
Sale ends at 4pm eastern time today – there's a coupon code that must be used, it's 20FLASH. Their site is at: http://www.nbcuniversalstore.com