Chrysler will recall almost 210,000 Jeeps due to a corrosion issue that could cause crashes, the company said today.
According to a statement released by the National Highway Transportation Safety Administration (NHTSA), the concern is related to the lower control arms in the rear suspension of the cars.
In areas of the US where roads are salted during snowy and icy conditions, the salt can cause corrosion on the lower control arms. This could cause them to fracture, which could lead to a loss of vehicle control and possible crash.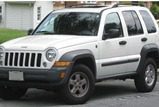 The recall affects certain model 2004 and 2005 Jeep Liberties manufactured between July 3, 2003 and July 14, 2005, which were originally sold or registered in NHTSA defined 'salt belt' states. The states are: Connecticut, Delaware, Illinois, Indiana, Iowa, pain, Maryland, Massachusetts, Michigan, Minnesota, Missouri, New Hampshire, New Jersey, New York, Ohio, Pennsylvania, Rhode Island, Vermont, West Virginia, Wisconsin, and Washington DC.
Chrysler will be notifying owners and replacing the rear lower control arms on affected vehicles free of charge. The recall is expected to start by the end of next month.
The NHTSA said that owners with questions can call Chrysler at 1-800-853-1403, or contact their vehicle safety Hotline at 1-888-327-4236, or visit http://www.safercar.com. The NHTSA advises that the recall number is L27.