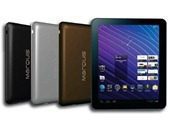 Matsunichi is preparing to launch a new Android 4.0 (Ice Cream Sandwich) based tablet in the US for $249.
It's not one of those dinky 7 inch jobs – this one has a 9.7 inch screen. The tablet features a dual-core, 1.2GHz TI chip, and 1 GB of RAM. It will come in three colors, black, silver, and bronze. That's the highlights. Unfortunately, there are some cost cutting corners we need to report on as well. According to the company, the tablet only has 2 GB of internal storage. Expandable storage? Sure – but just another 2 GB. It has one VGA quality camera. Battery life is limited to about five hours.
The new tablet is called MarquisPad – MP977. There's no firm date published on when it will appear on the US market, but it's expected to be sometime this month . We have contacted the company to ask about for an exact date and have not received a reply at press time. If we hear back from them, we will provide an update below (see update).
According to Engadget,  Matsunichi does have a few upgrades to this tablet in the pipeline. There will be a slightly larger 10.1 inch model with 10 GB of storage and a slightly faster processor. There will also be a 9.7 inch model with 10GB of storage. These models are expected to launch late summer and early fall, respectfully.
—update—
A spokesman for the company tells us the MarquisPad – MP977 will hit store shelves in early July, rather than this month.