More information coming in now about the new iPad (3), which Apple unveiled at a launch event in San Francisco this morning.
First of all, as we covered here, the name will simply be the iPad. No '3.' No 'HD.'. Just 'iPad.'
Now on to the new specs:
As was leaked earlier, the new iPad will have what Apple is calling a "retina display," with a resolution of 2047 by 1536 pixels. That makes for a very crisp screen… it's more than double the current iPad 2's resolution of 1024 by 768 pixels. During the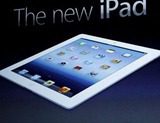 event, Apple Senior Vice President Phil Schiller said "Your retina in your eye cannot discern those individual pixels. The images on it look stunning."
The new iPad will have a 5 megapixel rear facing camera, a major step up from the iPad 2's embarrassingly poor quality camera. The front facing camera will continue to be a VGA quality one, as it was on the iPad 2.
Apple confirmed this morning that AT&T and Verizon will sell 4G LTE versions of the new iPad on their networks.
The new iPad is a bit thicker and slightly heavier than the iPad 2. This to allow for the new hi-def screen.
The processor in the new tablet will be dual-core, not quite as powerful as some had expected. The machine does have a quad-core graphics card.
The iPad is set to go on sale in the US a week and a half, Friday, March 16. It will be available on that same date in Canada, Britain, France, Germany, Switzerland and Japan. It will be available in another 25 countries a week later.