Jerry Bruckheimer, the producer of the upcoming (but not until 2013) movie "The Lone Ranger", tweeted out a picture from the set this morning.
The photo shows Armie Hammer as "The Lone Ranger", sitting tall in his saddle, next to Johnny Depp as Tonto, in quite an incredible costume and makeup.
The idea of a Lone Ranger movie has been kicked around for a while now. Columbia Pictures announced they would produce "The Lone Ranger" nearly 10 years ago. They planned to rewrite the story to make Tonto a female love interest of the Lone Ranger's. Luckily that didn't happen.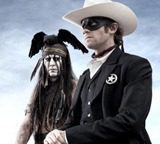 Jerry Bruckheimer Films and Disney bought the rights to make the movie in 2007. The making of the film has been stalled over concerns about the budget, and due to the making of the "Pirates of the Caribbean" sequels, which both Bruckheimer and (of course) Depp were involved in. The movie finally got a green light and filming began early this month.
The movie isn't scheduled to be in theaters until May of 2013. So we have to wait a bit before we can see this, but we'll keep you updated about the making of the film as details come in.