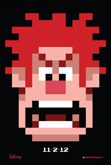 Walt Disney Animation Studios is giving video games the Toy Story treatment with their new animated feature film Wreck-It Ralph. 
In the film, John C. Reilly (Step Brothers) voices the titular character, a building-wrecking baddie in a fictional 8-bit era game of the same name. When Ralph decides he no longer wants to be the bad guy and leaves his own game, he throws the arcade into chaos.
The first trailer for the film premiered a few months ago and gave viewers a glimpse of the world inside the game cabinet.
The new trailer that Disney premiered yesterday (and made available on Yahoo) goes a little deeper, however, to show more of Ralph's struggle to go against his "Wreck-It" namesake, and shows what can happen to a game once one of its characters goes AWOL.
Video game fans may recognize some iconic game characters in the trailer, such as Bowser from the Mario Bros. franchise, Zangief from Capcom's Street Fighter game series, and even the much beloved Q*bert from the classic puzzle game of the same name.
Wreck-It Ralph stars John C. Reilly, Jack McBrayer (30 Rock), Sarah Silverman (The Sarah Silverman Program), and Jane Lynch (Glee). It will hit theaters November 2.
What other gaming icons can you catch in the trailer? Let us know in the comments section below!