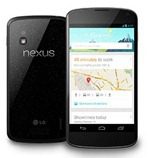 Demand for the latest smartphone from Google, the Nexus 4, is sky high.
The smartphone first went on sale November 27. Demand was so high that Google's Play store servers apparently couldn't handle the load.
Google, having trouble with high server loads? That's some impressive demand!
Sales were paused, then restarted. High demand, and server issues, continued during round two. The phones that were available for immediate shipment quickly sold out.
Now, shoppers that were hoping for a Nexus 4 by Christmas are pretty much out of luck. At least according to the latest info coming out of Google. Wait time for the 8GB version Nexus 4, which costs $299, is currently listed at 8 to 9 weeks. Well into late January or early February.
The 16GB version Nexus 4, which is priced at $349, has a shorter wait time, 4 to 5 weeks. If the phone was purchased today and shipped in exactly 4 weeks, that would put 2-day delivery on December 29…. and that "exactly" is a big "if".
T-Mobile, who had the 16GB version available for $199 on contract, has also sold out. They do not provide any indication of when the Nexus 4 will be available again through them.
Would you buy the Nexus 4 with a two month wait, or simple wait until it's back in stock? And what particular features attract you to this smartphone above others?  Let us know in the comments section below!