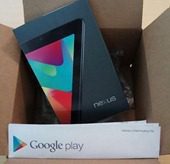 Google has begun shipping the Google Nexus 7 to those that preordered the new tablet. The announcement that the device is on its way to shoppers came through Google Play's Google Plus page. The announcement included a picture of a Nexus 7 in a box.
On the actual Google Play store, current orders are listed as shipping in 1 to 2 weeks, so it would appear that the tablet is not shipping live to current orders at this point.
Meanwhile, Staples is reporting through its website that they are sold out. They say to check back for availability between July 14th and July 18th.
Google's press department has not responded to our request for a list of authorized retailers selling the Nexus 7. Our research indicates that, besides, the Google Play store and Staples, the device is also being sold at Gamestop.com, Best Buy's Canadian website, BestBuy.ca (but, oddly, not the US one), and Office Depot. Another oddity, a site called Adorama, which we have not heard of before, it also selling the Nexus 7 – but with a mid-August expected ship date.
The Google Play store offers an 8GB version for $199, and a 16GB version for $249.. The other retailers offer only the 16GB version..
Now let's turn it over to our readers – have you spotted the Nexus 7 on other sites or on store shelves anywhere? Share that info in the comment section below.