The new Nokia Lumia 900 Windows4G phone will be launching on the AT&T network on April 8, just about a week away.
Pre-ordering is now available from ATT.com, which has the phone listed at $99 with the purchase of a two-year AT&T contract.
Over at Amazon Wireless, the Nokia Lumia 900 is discounted to $49.99 with the purchase of a two-year AT&T contract.
Yesterday, PCMag.com ran a story saying the Nokia Lumia 900 was available for pre-ordering on Amazon for 1¢ with a two-year AT&T contract.
We're not sure if that was an error by PCMag, Amazon Wireless, and extremely short term sale (seems unlikely)… or perhaps it was an early April Fools Day joke. But the smartphone is definitely not listed at Amazon for 1¢ anymore, if it every was in the first place.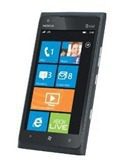 Regardless, the Nokia Lumia 900 will make a splash upon its launch on April 8. Nokia has stated that they will aggressively market the phone. Nokia used to be a dominant force in the US cell phone industry. But they fell behind the times, apparently not anticipating the huge surge of interest in smart phones. This just might be there ticket to get back into the pockets of US shoppers.
Likewise, Windows has been struggling to get their Windows Phone operating system accepted by shoppers. Apple and Android have been the key players when it comes to smart phone operating systems. The Lumia 900 runs Windows Phone 7.5.
The smartphone features a 4.3-inch ClearBlack Amoled touchscreen display, a 1.4 GHz processor, 512 MB of RAM, 16 GB of storage, an 8 megapixel rear facing camera and a one1 megapixel front facing camera. It includes 4G, Wi-Fi, and Bluetooth connectivity and can function as a mobile hotspot.