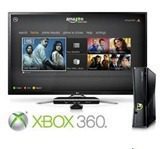 Amazon and Microsoft announced today that an Amazon Instant Video app for the Xbox 360 console is now available to Xbox LIVE Gold subscribers.
According to the announcement, the app will provide instant access to 17,000 movies and TV episodes to members of Amazon Prime. Another 120,000 movies and TV episodes will be available for purchase or rent through Amazon's website. Somewhat surprisingly though, these shows can not be rented/purchased directly through the Xbox 360 console. Shoppers will have to shop Amazon's site using a web browser on another device, and once bought or rented, the show will appear in the 'Your Video Library' section of the app.
According to Amazon, the app includes the ability to browse and select movies and TV shows from the video library section by using Kinect voice and gesture commands.
The app is only available to Xbox users that have an Xbox LIVE Gold subscription. According to a FAQ that Amazon offers about the service, users will be able to browse through available shows and movies, and view trailers, without a subscription. But when it comes to actually watching the shows, Amazon says "you need to be an Xbox LIVE Gold subscriber."
Xbox LIVE Gold subscriptions start at $5/month. Early this month, Microsoft began offering a 4GB Xbox 360 with a Kinnect sensor for $99 with purchase of a two year contract for a $14.95/month Xbox LIVE Gold subscription.
Amazon provides additional information about the app and service at http://amazon.com/instantvideo/xbox.
photo credit: Amazon