Ocean Spray, a cooperative of 600 grower members that owns the largest cranberry processing facility in the world, issued a voluntary recall of certain lots of its Original Flavor Craisins® Dried Cranberries products late Friday.
According to the company, 5-ounce, 10-ounce and 48-ounce packages of the dried cranberries are being recalled because they may contain small, hair like,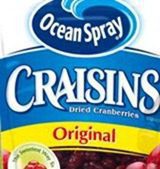 metal fragments. MSNBC is reporting that the metal fragments contaminating the packages originated from a piece of the production line machinery that malfunctioned. 10-pound packages of sweetened dried cranberries are also included in the recall.
According to Ocean Spray, the following Ocean Spray Original Flavor Craisins Dried Cranberries are included in this recall:
5 oz Craisins® UPC: 00293-000

Best By Date: Oct 27 2012 M

10 oz Craisins® UPC: 29456-000 and 29464-000

Best By Dates: Oct 27 2012 M, Oct 28 2012 M, Oct 29 2012 M

48 oz Craisins® UPC: 00678-318

Best By Dates: Oct 27 2012 M, Oct 28 2012 M, Nov 3 2012 M, Nov 4 2012 M, Nov 5 2012 M, Nov 6 2012 M, Nov 7 2012 M, Nov 10 2012 M, Nov 11 2012 M

10 lb bulk ingredient & foodservice UPC: 03477-000

Best By Dates: 30 Oct 2013 M, 31 Oct 2013 M, 1 Nov 2013 M, 5 Nov 2013 M
In the recall notice, Ocean Spray emphasized that only the above 'Best Buy' dates that are followed by the letter "M" are affected.
Consumers are being asked by Ocean Spray to destroy the product, while saving the UPC label and best buy date. They may then contact the Ocean Spray customer hotline at 1-800-662-3263 for a replacement coupon.
—–Update, 12/04/2011—-
Ocean Spray has added the following lots to the recall:
5 oz Craisins® UPC: 00293-000, Best By Dates: Oct 28 2012 M
10 oz Craisins® UPC: 29456-000 and 29464-000 Best By Dates: Oct 30 2012 M
48 oz Craisins® UPC: 00678-318, Best By Dates: Oct 29 2012 M, Nov 8 2012 M, Nov 12 2012 M