Oprah Winfrey is headed back to where she has found success in the past, her own talk show.
Her new show will be titled "Oprah's Next Chapter." According to a release from the Oprah Winfrey Network (OPN), Oprah will travel around the United States "having encounters with celebrities and others."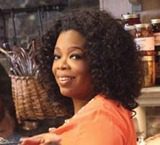 The show will premier with a two-hour special on January 1, 2012, at 9PM ET/PT. Her first 'encounter' will be with Aerosmith lead singer Steven Tyler, a judge on this year's season of American Idol, at his home in New Hampshire.
After the two-hour premier, the network said the show will continue in a one-hour time slot on Sundays at 9PM. Future episodes will include interviews with Tony Robbins, Joel Osteen, Deepak Chopra, George Lucas and Sean Penn.
Since it's launch on January 1, 2011, the Oprah Winfrey Network has been struggling to get a foothold. In July of this year, with ratings falling, Oprah announced she would take a more active role in the network. CEO Christina Norman was fired, and Oprah took over as CEO and Chief Creative Officer.
The success of Oprah's leadership will soon be tested. The network is launching 5 new series this January. Besides "Oprah's Next Chapter", new shows (titles subject to change) include "Visionaries: Inside the Creative Mind", "Your OWN Show: Oprah's Search for the Next TV Star", "Gayle King Live!", and "Why Not? with Shania Twain".
---
Have A Question? Ask Jessica!