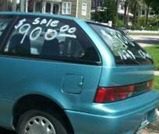 A new study has found that more than 2.7 million recalled, but unrepaired, cars are being offered up for sale online during 2011.
According to the study from vehicle history tracker Carfax, California, Florida and Texas lead the US in the most used recalled/unfixed cars for sale. Carfax has published a video on Youtube profiling a used car buyer who purchased a recalled, but unrepaired, whose car caught fire and burned due to wiring issued that had been the subject of a recall.
"Many of these cars change hands without the buyer ever knowing a recall exists, increasing the safety risks both to passengers in the car and others on the road. We all need to do our part to make sure these cars are identified and fixed – buyers, sellers and owners alike. A simple online check for open recalls is all it takes to help make our roads safer," said Larry Gamache, communications director at Carfax.
Of course, Carfax offers a solution to the problem. According to a release from the company, they offer a free service that shoppers can use to look up recalls using a car's VIN (Vehicle Identification Number). The service is available at recall.carfax.com. They also note that recall information is available on Carfax Vehicle History Reports.