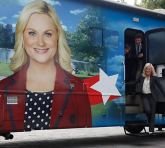 Fans of the popular comedy series Parks and Recreation will be pleased to know that season 4 of the show will be coming out on DVD next week, September 4, 2012.
The fourth season of Parks and Recreation originally aired on the NBC starting September 22, 2011.
As with past seasons, season 4 also focuses on Leslie Knope (Amy Poehler) and her staff at the parks and recreation department of the fictional Indiana town of Pawnee. However, this season featured an overarching story arc, beginning in the first episode and culminating in the finale, where Leslie ran for the city council of Pawnee.
The season 4 DVD is available for pre-ordering priced at $29.99 (DVD) at Amazon and on Amazon Instant Video at $1.99 or $2.99 (HD) per episode, or $19.99 or 24.99 (HD)  entire season. Walmart offers it at $38.86(DVD) while Buy.com has the price at $28.99(DVD).
NBC does have a number of season 4 episodes online for free. The season 4 episodes currently available on NBC.com are  The Trial of Leslie Knope (4-9),  Citizen Knope (4-10),  The Comeback Kid (4-11), Campaign Ad (4-12), and Win, Lose, or Draw (4-22) with a directors cut of the same  (4-22a).
The entire 4th season of Parks and Recreation is also available on Netflix. Season 5 premiers on NBC September 20.
Tell us what you think of the show in the comments section below!