Publix is recalling their Publix Beef Stew Mix, made by McCormick & Company, Inc, due to the possibility that it may be mispacked with brown gravy, and may contain undeclared milk. Some shoppers with milk sensitivities or allergies may have an allergic reaction if they use this product, according to the company.
The recalled beef stew mix comes in 1.45 ounce packages. The lot that is being recalled has a UPC code of 41415-03608 and is marked with the expiration code "BEST BY DEC 09 13 H."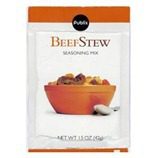 Maria Brous, Publix director of media and community relations, said in a statement that "As part of our commitment to food safety and in cooperation with the FDA, we are issuing this voluntarily recall. Since some of our customers may have food allergies, we wanted to take every precaution to protect their health."
Publix also stated that there have been no health issues reported due to the possible mixup. They are asking shoppers who bought the affected mix to return it to Publix for full refund. Publix said that customers with questions can call them at 1-800-242-1227, the company also provides additional information on its website here.
The beef stew mix was distributed to Publix stores in five states, Alabama, Florida, Georgia, Tennessee and South Carolina.