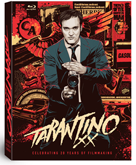 After twenty years of filmmaking, iconic director Quentin Tarantino is being celebrated by Liongate and Miramax with the release of Tarantino XX: 8-Film Collection on Blu-Ray.
Tarantino is known for his violent – yet artful – films showing a strong influence from bygone eras and almost extinct movie genres.
Jackie Brown, for instance,  is an homage to black exploitation films and Kill Bill Volume 1 and Volume 2 are heavily influenced by spaghetti westerns and classic kung fu masterpieces.
Tarantino XX: 8-Film Collection brings together eight films chosen by the Oscar-winning writer/director himself to represent the first twenty years of his film career. The collection includes:
Reservoir Dogs
True Romance – Director's Cut
Pulp Fiction
Jackie Brown
Kill Bill Vol. 1
Kill Bill Vol. 2
Death Proof
Inglorious Basterds
Before making it big with Reservoir Dogs, Tarantino worked at a video rental store where he would keep track of what types of movies people rented the most and have long discussions on what films to recommend. Since then, he has made a name for himself and his singular style of directing and has worked with A-list actors like Uma Thurman (True Romance, Kill Bill), Samuel L. Jackson (Pulp Fiction, Jackie Brown), and Brad Pitt (Inglorious Basterds).
Besides the films themselves,
Tarantino XX
comes with a smorgasbord of extra content, including special features for each film, two discs of bonus content that celebrate and dissect Tarantino's remarkable work, and original box and disc art by cult-favorite poster and t-shirt artist
Mondo
(viewable in all its pop art glory below).
Tarantino XX: 8 Film Collection will be available on Blu-Ray on November 20. We'll update with pre-order info as soon as it becomes available.