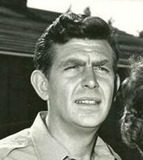 One of America's favorite actors, Andy Griffith, died this morning at his home on Roanoke Island, Dare County, North Carolina, according to the Dare County sheriff's office. Griffith was 86 years old.
Griffith was already well known before he starred in the roles we now remember him from. In 1953 he had a number 1 single with his comedic monologue "What it Was, Was Football." In 1955 he played the lead role in the teleplay, "No Time For Sergeants," based on a novel of the same name. Later that year played the same role in a Broadway play also based on the novel.
Griffith made his film debut in the 1957 film "A Face in the Crowd."
In 1960, he played a local county sheriff in the TV series "Make Room For Daddy" (aka: "The Danny Thomas Show."  Much as is done in modern TV series today, the character introduced in that episode was expanded into his own series, which became "The Andy Griffith Show." The show ran from 1960 to 1968, and also starred Don Knots as Barney Fife, Jim Nabors as Gomer Pyle, Frances Bavier as Aunt Bee, and Ron Howard as Opie.
"The Andy Griffith Show" was a huge hit. The series was always highly rated and finished its last season as number 1. TV Guide listed it as the 9th best series in history. Spinoffs include Gomer Pyle, U.S.M.C. and Mayberry, R.F.D.
After starring in several lesser known shows, Griffith took on the role of Ben Matlock in the hit series "Matlock." The legal drama ran from 1986 to 1995.
In 2000, Griffith suffered a heart attack and had quadruple heart-bypass surgery. In 2007 he had hip surgery after a fall.
A cause of death has not been released at publication time.