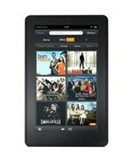 Could Amazon be preparing for a launch of a new Kindle Fire?
The rumor of a new Amazon Kindle Fire started making the rounds about a week ago. We told you about it here. Yesterday the rumor went red hot after CNET claimed they have a reliable source that said Amazon's second-gen Kindle Fire will be unveiled soon, and that Amazon is targeting a July 31 launch for the new tablet.
While last week's report suggested that the new Kindle Fire would have a higher resolution screen, CNET said their source didn't mention that. But they did say the new tablet will have a camera and physical volume control buttons.
CNET also did not report any indications of a price coming from their source. It's being speculated on many sites that Amazon will take Apple's lead and keep the price of the next-gen Kindle Fire the same as the previous version, and drop the previous version's price.
Rumors also suggest that Amazon will be coming out with a backlit eReader at the same time the new Kindle Fire is launched. Something they can use to compete with Barnes & Nobles' Nook eReader with Glowlight.
If you were getting ready to buy a Kindle – will these online rumors make you put off your purchase until after the summer? Let us know in the comment section below.