The highly anticipated Samsung Galaxy Note has gotten an official US launch date from AT&T, February 19. The price? $300, when purchased with a two-year voice and 4G LTE data contract.
AT&T is making a special offer to shoppers who preorder the new smart phone. The company said they are accepting preorders beginning on February 5th, and shoppers whose preorders are placed by the 15th will have the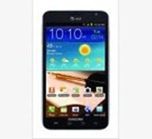 phone delivered on February 17 – two days before the official launch. AT&T said preordering will be available through AT&T owned retail stores and online at http://www.att.com/galaxynote.
The Samsung Galaxy Note is a big smartphone… though some call it a small tablet that can be used as phone. It has a big (for a phone) 5.3 inch display, with an HD Super-AMOLED display. It's powered by a 1.5 GHz dual core processor and 1 GB of RAM. When it's launched it will come with Android 2.3, however Samsung has said they will update it to Android 4 (Ice Cream Sandwich) later this year. The smart phone also has two cameras, a 2 megapixel rear facing camera and an 8 megapixel front facing camera.
One of the most unique features about the Galaxy Note is that it comes with in 'S Pen' (stylus) for making sketches or jotting down hand written notes on its touchscreen. Samsung claims that the Samsung Galaxy Note will be able to take those handwritten notes and convert them into standard text.