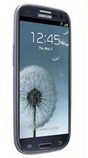 The Samsung Galaxy S3 will be available through U.S. Cellular starting tomorrow.
In an email to Consumer Press, U.S. Cellular said "We are happy to share that the 16 GB Samsung Galaxy S III will be available for U.S. Cellular customers to purchase online at www.uscellular.com tomorrow (July 11) and will be for sale in retail stores by the end of the week.The 32 GB versions will be available shortly after that."
U.S Cellular recommended that shoppers call their local stores to check for availability, as some stores may receive the smartphone before Friday.
But that's not all we learned. U.S. Cellular also told us that preorders of the 16GB version are being shipped this week. Orders for the 32GB version will ship later this month.
With a service contract, and after a $100 mail-in rebate, the cost of a 16GB Samsung Galaxy S3 through U.S Cellular is $199. For the the 32GB version, the cost is $249.
With the addition of U.S. Cellular, the popular new smartphone will be available through five different carriers. Along with U.S. Cellular, the device is available through AT&T, Sprint, Verizon, and T-Mobile.
Will you be headed to U.S Cellular for an S3? If you are, or if you preordered one, use the comment section below to tell us about your experience buying and using your new phone!