SeaWorld Orlando announced today that construction of their upcoming attraction "TurtleTrek" has reached a milestone. The installation of 344 screens into the attraction's domed theater has been completed. According to SeaWorld, the new attraction is on track to open in the Spring.
TurtleTrek is comprised of two huge aquariums, one freshwater and one salt water. The fresh water aquarium will include freshwater fish and manatees. The salt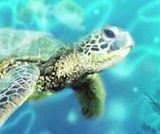 water aquarium will have more than 1500 salt water fish and over a dozen sea turtles.
After visiting the aquariums, visitors to TurtleTrek will enter a domed theater for a unique experience. The theater will be the first of its type ever at a theme park. It will feature a 360-degree, 3-D, hyper-realistic movie providing a "turtle's eye view of the ocean's wonders."
SeaWorld describes the 360-degree, 3-D theater as being completely immersive, with guests completely surrounded from all sides and above with the 3-D experience.. SeaWorld says the movie will include ways the visitors can help the endangered sea turtle survive long into the future.
A video about the construction of TurtleTrek, produced by SeaWorld Orlando, is below.