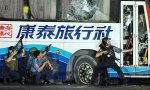 Seven tourists were killed Monday night when a former policeman hijacked their bus and demanded his job back.
Rolando Mendoza boarded the bus in Intramuros, a district of Manila.  He waited through several stops, then, wielding an M16 rifle, he took charge of the bus.
Mendoza was one of several officers who lost their jobs in 2008 after being charged with robbery, extortion and grave threats. In an attempt to get his job reinstated, Mendoza hijacked the bus, filled mostly with tourists from Hong Kong.
During the 10 hour stand off, which played out live on TV, sharpshooters surrounded the bus.  Nearby roads were closed off by law enforcement. Food was continuously provided for the hostages to eat. And fuel was provided to keep the air conditioning running in the scorching summer heat.
It seemed that there would be a peaceful conclusion to the standoff during the afternoon. Hopes were high that it could be resolved without bloodshed as Mendoza released nine hostages and kept fifteen on the bus. But tensions rose as the day wore on.
It was when the police saw Mendoza open fire on hostages that they began the process of storming the bus.
Mendoza was stopped by being shot in the head by a sniper, killing him instantly. Only six of the hostages that had remained on the bus survived the incident.