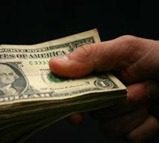 Consumer spending numbers for the month of March, 2012, have been analyzed and according to MarketWatch, we shoppers pulled back a bit that month.
But the news is not all bad. They also reported that income was up slightly, though mostly because of government benefit payments, and that, combined with the slower spending, caused savings rates to increase 3.8%.
Overall consumer spending was up a seasonally adjusted 0.3%. Income was up 0.4%.
Looking at the first quarter of 2012 altogether, spending was up 2.9%. That's the largest increase in over a year. Some economists believe that the slow down in March may be a sign of a weakening economy. Consumer spending accounts for about 70% of the US economy.
Inflation is up 2.1% over the last year. We hear you, it certainly feels like it's increasing faster than that. Especially when it comes to spending at the grocery store and at the gas pump. The least gas prices do appear to be on a downward trend at the moment. US average is eight cents lower per gallon that it was a month ago, according to the AAA.