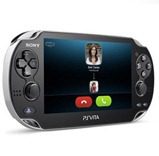 Skype has been busy lately. Not only did they release a Skype app for Windows phones earlier this week, they also have released a Skype app for use on Sony's PlayStation Vita.
The PS Vita is a gaming console better known for games such as Uncharted: Golden Abyss, MLB 12: The Show, Ultimate Marvel vs Capcom 3, LEGO Harry Potter Years 5-7, and Dynasty Warriors Next, amongst others.
But the Vita console also has cameras (2) and a microphone, and with the Skype app will be able to be used to make voice and video phone calls.
The app works on both the Wi-Fi and the 3G/Wi-Fi versions of the PS Vita. Users will be able to switch back and forth between the front facing camera's view and the rear facing camera's view. According to Skype, the app will run in the background and automatically pause games when an incoming call is received. Calls made to other devices running the Skype app are free. Calls to mobile and landline phones require Skype credit, which can be purchased on a pay-as-you-go or a subscription basis.
The app itself is available as a free download from the PlayStation Store on the PlayStation Vita. Additional information is available from Skype here.