Sony is developing a new Chromebook, according to information apparently leaked by the Federal Communications Commission (FCC).
According to Laptop Reviews, who appears to have been the first to discover the documents, the information appeared on the FCC's website last week. The manual included with the documents includes a section which says "Turn on your computer to start Chrome OS," said Laptop Reviews. At this time that can not be confirmed, as the manual is no longer available through the FCC's site.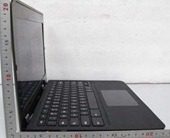 However, pictures are still available on the site, one of which is included to the right with a measuring gauge.
The laptop is referenced as the VAIO VCC111 (VAIO Chromebook Computer, series one, 11-inch display). There's not much info on it's specs, though Laptop Reviews suggests it will have a Nvidia Tegra 250 T25 1.2GHz ARM based processor with 2 GB RAM, 16 GB of storage, and be Wi-Fi enabled. They expect the price to be around $300 to $400, and for the new device to be launched within a few months.