More than 5 million copies of Nintendo Super Mario Galaxy have been sold in the US, making it the 9th Wii game with over 5 million sold, according to a statement released by Nintendo.
The previous Wii games with sales over 5 million are: Wii Play (13.06 mil), Mario Kart Wii (11.3 mil), New Super Mario Bros. Wii (8.86 mil), Wii Fit (8.18 mil), Wii Fit Plus(7.32 mil), Wii Sports Resort (6.45 mil), Just Dance 2 (5.61 mil), and Super Smash Bros. Brawl (5.43 mil).
Nintendo said the next game expected to cross over the 5 million mark is Just Dance 3, which currently has sales of 4.61 million.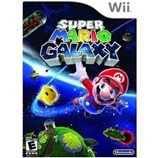 The company also said that they have sold a total of more than 39 million Wii gaming consoles since the device was launched in 2006. Last month alone, 228,000 Wii consoles were sold. A new version of the Wii, the Wii U, is expected to debut toward the end of 2012.
In the statement, Scott Moffitt, Nintendo of America's executive VP of Sales and Marketing, said:
"Wii continues its record-breaking run by surpassing 39 million units in its 64th month, a pace that is unmatched by any other system in U.S. history. Titles like Super Mario Galaxy help explain why Wii continues to resonate with consumers. The fact that one of the best-reviewed games of all time is available for a suggested retail price of $19.99 speaks to Nintendo's combination of quality, family fun and value that is unmatched in our industry."
Nintendo also announced over 4 million Pokémon Black Version and Pokémon White Version Nintendo DS games (combined) have been sold in the US.