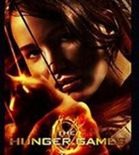 The Hunger Games will be released on Netflix's streaming service on April 2, according to an announcement we just received from the company.
Based on the novel The Hunger Games by Suzanne Collins, the 2012 movie is about a post-apocalyptic world in which teens must compete in the Hunger Games.
The games, which are televised, are a fight to the death. The survivor of the games wins food for their district.
The film was a huge box-office success. It brought in $685 million worldwide and is the 3rd highest grossing film in US history. It's impressive that Netflix has gotten it so early.
Other notable films coming out on Netflix soon include Anaconda (3/1), ParaNorman (4/18), Bully (3/30), Pretty in Pink (3/1), and Lovelace (4/1).
TV shows include: Archer: Season 3 (3/9), Weeds: Season 8 (3/14), The L Word: Seasons 1-6 (3/20),
Recent Netflix arrivals that are now streaming online include: Brokeback Mountain, Rango, Hugo, and Shakespeare in Love.
Netflix's online streaming service costs $7.99 per month. They offer a free one month trial to new users available through their site.