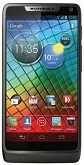 The Intel and Motorola partnership has finally yielded a new smartphone in the shape of RAZR i.
The Motorola RAZR i was revealed in London, and comes with a 2.0 GHz Intel Atom  processor and a 4.3 inch display.
The RAZR i has a Super Amoled edge to edge display with virtually no border with 960×540 pixel resolution. Its weighs in at 126g  and is powered by a  2000mAh battery and is 8.3mm thick. It has an aluminium frame and a Kevlar back panel. The new software includes additions like SMARTACTION, which triggers specific apps and allows your phone to automatically adjust to squeeze more out of each charge.
The phone is equipped with an 8 mp camera which is starts up in just a second and can take 10 shots per second. The RAZR i boasts NFC capabilities and Android Beam. It will be shipped with Android 4.0, but is due for an immediate update to jelly bean.
"Together with Intel, we're redefining what people can expect from a mobile device. A camera that launches in an instant, Web pages that load blazingly fast and a device that's the perfect balance of screen size and fit in hand," said Jim Wicks, senior vice president, Consumer Experience Design, Motorola Mobility. "RAZR i delivers just that when you put an Intel-fast processor in a beautifully designed phone and add in extra long battery life."
"Motorola RAZR i will be available in black, beginning in October in select European and Latin American markets including the U.K., France, Germany, Argentina, Brazil and Mexico with more to be announced. A stand out white version will also be coming to select markets," according to the Motorola media center.
Here is a quick look at RAZR i. Leave your thoughts about the new addition to Google Powered Motorola's smartphone kitty bag, in the comments section below.
httpvh://youtu.be/EC6X9azWHuw