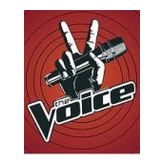 Monday's episode of The Voice was filled with a plethora of talent, including the return of past eliminated contestant Dez Duron, who this time won over the judges by performing "Sarah Smiles."
However, there were two performances that stood out from the rest.
1) Michelle Brooks-Thompson- "Proud Mary"
Michelle Brooks Thompson a banker no more!
As she sang "Proud Mary" the audience was blown away by her incredibly powerful vocal range. She gave me the chills from the moment she sang her first note.
Adam, Cee Lo, and Christina turned their chairs around, all praising her for her extraordinary gift. Even though Christina seemed like the perfect coach for her, Thompson ended up choosing Adam. He gave the best pitch as to why she should be on his team, specifically stating that he would be "blessed and honored" to have someone like her. At this stage of the show, she already seems like a front-runner to me.
httpvh://youtu.be/T1rS_CtMyCY
2) Brandon Mahone- "I Wish It Would Rain"
17-year old Chicago native Brandon Mahone performed The Temptations "I Wish It Would Rain" to absolute perfection.
Inspired by great classics like Sam Cook, Smokey Robinson, The Temptations, and Gladys Knight, Mahone performed with immense soul. His incredible range was showcased through the entirety of the song as he flawlessly sprinkled in a piercingly sexy falsetto.
Christina emphasized her desire in having him join her team as she explained how she could feel the emotion he put into the song with his undeniable "soulful and smooth voice."
However, it was Adam who hit the jackpot and ultimately the heart of Mahone, as he explained how he did not see Mahone as sounding like an imitation of our great soul singers, but rather sounded like the next in line.
httpvh://youtu.be/I-5rWViARko
What did you think of the show? Leave your thoughts in the comment section below.