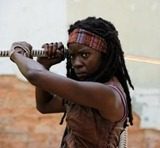 The Walking Dead, season two, hits store shelves big time this Tuesday, August 28 – and we will all finally have a chance to take a shot at the second season of our favorite zombie show!
*update: Netflix users, TWD S2, is now on it's way to Neflix, click here for details!
The 2nd season of the hit series from AMC (which isn't on DISH, if you haven't already gotten that message beaten into your zombie brain by AMC yet), has been in pre-order status since April!
For those of us who pre-ordered early, it's been a very long wait.
Pre-orders are still being taken at major retailers including Amazon ($24.99 on DVD, $29.99 on Blu-ray, $20.90 for the season, and $1.99 to $2.99 per episode, via instant streaming), Walmart.com ($39.96 on DVD, $49.96 on Blu-ray, and $1.99 per episode on Walmart's streaming service), and Buy.com ($29.99 on DVD and $36.99 on Blu-ray).
The Walking Dead, season 2, disc sets include exclusive behind-the-scenes footage, featurettes and audio commentaries.
The stores mentioned above all also offer a deluxe, limited edition Blu-ray set that includes a rather gruesome statue of a zombie head with (Dale's?) screwdriver sticking out of its eye. The head tilts back to reveal the discs. Of the three stores mentioned above, Buy.com has it the cheapest at $63.99, at Amazon and Walmart it's $64.99 and $64.98, respectively.
When will The Walking Dead, season 2, be on Netflix's streaming service? General consensus online points to October, but Netflix has been mum on the subject.
Season 3 of The Walking Dead premiers on AMC October 14th. The title of the first episode of the new season is "Seed."
Is the wait for the new season absolutely KILLING you? Leave your comments below!
****** update, 9/17/12 ******
The Walking Dead, Season 2, is finally headed to Netflix – details!
Be sure to 'like' Consumer Press on Facebook ('like' button on the right sidebar) or follow us on Twitter (follow button below) for all the latest shopping and entertainment news!