Motorola introduced their newest product for the Verizon network today, the Motorola Droid RAZR.
RAZR is a name Motorola is resurrecting from the past. A name that became synonymous with super-thin, light, stylish, phones.
And true to it's name, this new RAZR is thin. In fact, it's the world's thinnest smart phone, according to Motorola Mobility President Sanjay Jha. Just 7.1 mm thick… or for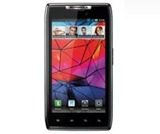 us still using feet and inches, that's 0.27952755905542 of an inch. It's lightweight too – coming in just a bit less than 4.5 ounces.
The Droid RAZR has a large 4.3 inch Super AMOLED Gorilla Glass touchscreen, which according to Jha, will provide more contrast and richer color than the new iPhone 4S. It's the first smartphone that will be able to download HD movies from Netflix. It has a 1.2 GHz dual core processor and be loaded with Android 2.3.5, aka Gingerbread.
The new smart phone has a feature called MotoCast, which allows the user to stream content from their computer straight to the device. In a dig perhaps aimed at Apple's new. iCloud service, Motorola's announcement of the new feature stated "..because you don't have to upload to a third-party site, you're saving time while gaining peace of mind. That's right — your files stay safe because they stay with you.
The Droid RAZR will run on Verizon Wireless's 4G LTE network. It's expected to be released early next month and will be $299 with a two-year Verizon contract.
Watch for our Droid RAZR vs iPhone 4S story coming soon…wouldn't it be interesting if the 'iPhone killer' comes along as something like this, without the fanfare of some of the other big name phones that were loudly pushed as "the" one that would best the iPhone?
---
Have A Question? Ask Jessica!