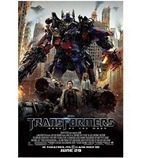 We knew Transformers: Dark of the Moon, Immortals, and Conan the Barbarian, were all on their way to Netflix. The streaming company announced it through their blog last week. But until today, we had no exact dates.
Word came in to Consumer Press this afternoon, from a source that works with Netflix, that Transformers: DOTM will be available to Netflix subscribers starting June 30. Immortals will hit Netflix on July 4th. And Conan the Barbarian will be available starting July 7th.
As for Captain America: The First Avenger, eh, all we still have on this one is a vague late July time frame.
Transformers: Dark of the Moon, is the third movie in the live-action Transformer series. Unfortunately, Netflix does not have the first and second installment of the series – so no Netflix/Transformer marathons with all three live-action movies. Still, it's quite a catch for Netflix. The film premiered in theaters in June of 2011, so it's only a year old. And it did great at the box office, raking in over a billion dollars worldwide at the box office.
The Greek-myth based film Immortals wasn't such a big blockbuster, grossing just about $225 million. Conan not so much either, it did approximately $49 million at the box office (worldwide).
But still, these movies plus the  blockbuster Thor, which became available on Netflix last week, do give the company some new action/adventure flicks it can put on its marquee. And when Captain America: The First Avenger, comes online, that will be quite a draw. We'll let you know as soon as we get a date for that one!