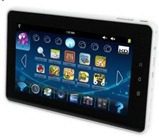 We are entering a new arena in the tablet wars – tablets made for kids.
Not one, but two new tablets geared toward children have been revealed in the last 24 hours. One is from a company called Techno Source USA. These are the folks who have developed the latest version of 20Q – that little game device that guesses what a player is thinking of. The second kid friendly tablet is made by the PC and tablet maker Archos.
First we'll take a look at the Techno Source tablet, called the Kurio 7 (pictured above).
Tech wise, this tablet features a 7 inch multi-touch screen, a 1.2 GHZ processor with a dedicated 3D graphics chip, 1 GB RAM, and runs Android 4.0 (Ice Cream Sandwich). It has 4 GB of internal storage, and memory is expandable up to 36 GB. It has built-in Wi-Fi, two cameras (front facing 0.3 mp, rear facing 2.1 mp), and a USB 2 port, an HDMI port, a micro SD card slot, and a 3.5 mm headphone jack.
Kid friendly features include what they call a "durable, protective shell" that comes in an assortment of colors. What caught our attention, as parents, was that it has parental controls including a timer to limit tablet time, and it can even limit tablet time to certain hours of the day. Parents can set up as many as eight profiles for different children. Parental control settings include the ability to customize internet filters, allow (or disallow) the use of specific apps, and customize access to the app store (no more worrying about children buying apps without permission). There's a slew of accessories that can be purchased along with the tablet – including an external keyboard.
The Kurio 7 is priced at $199 at http://www.toysrus.com, where it is currently available for pre-ordering. The estimated ship date for pre-orders is July 26. It will also be available at Toys"R"Us stores nationwide.
The second kid friendly tablet, made by Archos, is the Arnova ChildPad.
This tablet also has a 7 inch  multi-touch screen. It's powered by a 1 GHz processor and has 1 GB RAM. It has 4 GB of on board storage, which is expandable via a micro SD card slot. It runs Android 4.0 (Ice Cream Sandwich), has one front facing camera and built in Wi-Fi. Along with the micro SD card slot, there's also a USB 2 port.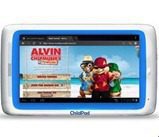 The ChildPad has an Alvin & The Chipmunks 3 theme. According to Achos, "children will have access to special content provided by '20th Century Fox' such as an exclusive behind the scene clip, pictures taken from the movie, wallpaper as well as an 'Alvin & The Chipmunks 3' online game."
It comes with a six month subscription to a parental control app called "Mobile Parental Filter" by Editions Profil. Like the Kurio 7, there's a slew of accessories that can be purchased for the ChildPad. We don't see a keyboard listed, but there is a bumper case, carrying case, car case, and the like.
The ChildPad is available starting today. It's priced at $129.99 and can be purchased through http://www.childpad.us. Archos said it will be available at a variety of national retail stores soon.