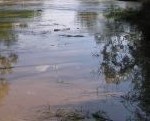 There has been one confirmed case of cholera in Pakistan and several others suspected, according to Mark Ward, acting director of the U.S. Agency for International Development's office for foreign disaster assistance. However, there is much optimism among U.S. officials that an outbreak can be avoided.
Cholera is a nasty bacterial infection of the intestines. It is often spread through contaminated water. It leads to diarrhea, dehydration and potentially fatal consequences.
The floods that have spawned the cholera were brought on by the monsoon-like downpours that engulfed the Indus river in Pakistan. More than 1600 people have died and crops and livestock were wiped out.
Ward pointed out that with this much water, and that many people, it was almost inevitable that there would be cholera. But he says, "the good news is that we know where it is and we can get resources in there to help".
It is vital in helping to prevent the disease that those affected be moved to clinics set up for cholera treatment. Aircraft are being used to help with transportation. Hygiene and hand-washing are also imperative.  Radio and text messaging networks have been set up to get the message out.