Today Universal Orlando announced a number of new additions to their Florida theme parks, Universal Studios Florida and Islands Of Adventure. The new additions, all slated to launch in 2012, will include a parade, changes in shows, and the addition of a nighttime show and a new attraction.
"Never before have we created this many new experiences across the entire destination in a single year. There will be something for everybody and every family. An all new attraction, a new show, a new parade and so much more." said Mark Woodbury, president of Universal Creative, in a webcast about the new additions.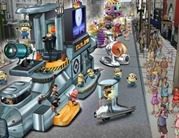 In addition to their two theme parks, Universal Studios Florida and Islands Of Adventure, Universal owned properties include three on site hotels and an entertainment complex called CityWalk.
Islands of Adventure is home to the popular Wizarding World Of Harry Potter, which opened in 2010 (another one is under development for Universal Hollywood).
One of the many changes that Universal is making is a 'reimaging' of their Spider-Man attraction. The adventure is being redone in high definition, and Universal said there will be changes so that guests can spend more time with their favorite characters. The new show is set to launch in March.
This spring will also see the launch of the Universal Super Star Parade. The parade will feature Dora and Diego, SpongeBob SquarePants, Despicable Me, and E.B from Hop.
For evening entertainment, Universal is launching "Universal's Cinematic Spectacular: 100 Years of Movie Memories." Narrated by Morgan Freeman, the show will be displayed against cutting-edge waterfall screens, surrounded by fountains and pyrotechnics and include memorable and classic moments from Universal Pictures films.
A new 3D attraction, based on Despicable Me, will also be launched this summer. The attraction, Despicable Me Minion Mayhem, is described by Universal as being their next big blockbuster adventure.
Opening at CityWalk in February is a new 36 hole miniature golf course with drive-in movie inspired themes. Wet 'n Wild Orlando, operated by Universal, is also adding a new attraction with 15 water slides and 100+ soakers and water cannons.
Dates for the opening of each of these attractions was fuzzy in the announcement, though in response to a question about whether any attractions would be closed so that changes could be made, Woodbury referred potential guests to UniversalOrlando.com for scheduling information.