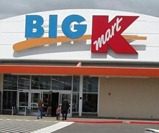 Consumers can now go to Kmart to make payments on bills from 1000's of different companies.
Kmart announced today that they are accepting payments through the CheckFreePay walk-in bill payment service from Fiserv. Over 3000 companies, from electric, water, gas and other utilities, to cell phone, home phone, TV, cable, satellite, auto loan, credit cards, insurance, and others, participate in the bill payment program.
According to Kmart, the service costs anywhere from $1.50 to nothing, depending on the company the payment is going to. They say on their website that the payment will be delivered to the company the next business day if the bill is paid at Kmart before 7pm local time. Bills can be paid with cash or through a debit card. The service is available at the customer service desk in all US based Kmart stores. A billing statement or stub from the billing company is required.
"We are continuously seeking convenient ways to help customers manage their personal finances. The debut of Kmart's in-store bill pay program does just that – it gives our customers access to a fast and convenient way to pay bills and manage their finances. By providing services like this, we hope to make shopping at Kmart a more satisfying experience," said Keith Brand, DVP Alternative Financial Services for Kmart, in a statement sent to the media.
Kmart did not provide a list of participating companies. CP has requested one and will update this story when we hear back from them.
Walmart has offered this same service since 2009.