Two eagerly awaited smart phones are in the news this evening, both being offered through Verizon Wireless.
First up is the Motorola RAZR. The new RAZR is being promoted as the thinnest smart phone ever. It averages 7.1 mm, or just over a quarter of an inch, thick. It features a 4.3 inch Guerrilla Glass touchscreen, and is the first smart phone that is able to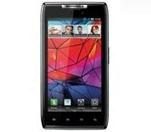 download HD movies from Netflix. It has an 8 megapixel main camera and a 1.3 megapixel front facing camera. It comes loaded with Android 2.3.5, and runs on a 1.2 GHz dual core processor.
Preordering for the RAZR is set to start Thursday at 8 AM Eastern Time. The price will be $299.99 with the purchase of a new two-year Verizon contract. According to Verizon the phone will ship by November 10.
Verizon has also put a sign up page on its site for notification of when the new Galaxy Nexus will become available. There's been a lot of buzz about this smartphone, a collaboration between Samsung and Google. It features a 4.65 inch HD display, a 5 megapixel autofocus camera said to have zero shutter lag, along with a 1.3 megapixel front facing camera. It also has a 1.2 GHz dual core processor and runs the new Android 4.0.
It's interesting to note that Verizon said the RAZR will ship by November 10. That same date has been rumored to be the launch date for the Galaxy Nexus. Verizon has put an availability notification sign up for the Galaxy Nexus on their website. The sign-up form is at: smartphones.verizonwireless.com/nexus . No pricing information has been provided as yet.