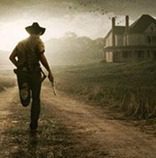 Talking Dead, a one hour promo for the third season of Walking Dead done in a talk show format, aired tonight during the Walking Dead weekend marathon on AMC.
During the show, host Chris Hardwick disclosed the details of a Walking Dead sweepstakes, with the prize being a "stagger on" role during one of next season's episodes.
The sweepstakes, which can be entered at http://www.amcdead.com, requires the use of the code: "OCTOBER" (without the quote marks). Other than that, the sweepstakes form requires all the standard details, name, address, phone, etc.
According to the official rules, AMC will stop taking entries for the sweepstakes early tomorrow morning. Yep, it ends at 5:59:59 a.m. ET on July 9, 2012. The rules also state that if the code they gave out during the show (OCTOBER) is entered incorrectly, the entry will not count. Why "OCTOBER"? Because that's when the next season of The Walking Dead is set to debut.
They also limit entries to one per person, and entrants must be over 18 years old. The sweepstakes is open to legal residents of the US and Canada (except for Quebec). The full list of official rules (and there are many) is posted on amcdead.com.
AMC isn't wasting any time with getting the sweepstakes wrapped up either. According to their site, a winner will be drawn tomorrow, July 9, 2012. The winner gets airfare for two to Atlanta, a stay at a hotel, and some pocket cash to boot.
Talking Dead also featured a short clip from season 3 and included a few minor spoilers – things that are not likely known by viewers of the show that haven't actual read the graphic novels the show is based on. The spoilers include the identity of the hooded figure that saved Andria at the end of season 2 (Michonne), and that the structure looming behind the group in the final shot of season 2 is a prison.