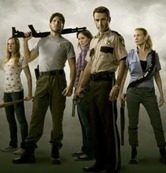 The Walking Dead weekend marathon is finally here – but barring any (unlikely) last minute deals, DISH subscribers will be left out of the harrowing experience.
AMC will air the first two seasons of the popular zombie series starting today at 11:30am ET/10:30am CT. The first 12 episodes will be shown on Saturday, wrapping up a little bit after 1am ET/12am CT, Sunday morning.
Later on Sunday, the series picks up with the 13th episode at 11:30am ET/10:30am CT. At 9pm ET/8pm CT, there will be what AMC describes as a live, "one-time-only airing" of Talking Dead, hosted by Chris Hardwick. During Talking Dead, there will be a preview of season 3, a behind the scenes sneak peek, and interviews with the stars.
After the hour long Talking Dead, a never-before-seen black and white version of The Walking Dead pilot episode will be shown.
So why won't DISH subscribers get to see the Walking Dead weekend marathon? A dispute between AMC and DISH has caused AMC (and several other networks the broadcasting company owns) to be taken off of DISH's lineup. At the end of last month, the contract between the companies expired. AMC has been pushing DISH to sign a new contact with a concerted ad campaign warning DISH subscribers that they would be losing the network, which has produced several popular shows lately, such as The Walking Dead, Breaking Bad, and Mad Men. In the ads, AMC encouraged DISH subscribers to visit an AMC run site which asked fans to complain to DISH. Now, AMC has switched to actively encouraging fans to drop DISH service and sign up for a different provider.
AMC claims the dispute is DISH's way of punishing AMC for a legal action AMC brought against DISH. DISH says it's all about the cost that AMC wants to charge them to carry the network.
Having a Walking Dead weekend with a special live show and season 3 preview is sure to have ramped up pressure on DISH. Analysts are expecting the pressure to increase even more when the new season of Breaking Bad nears its premier date, July 15th.