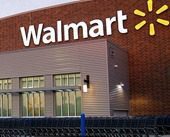 There's an interesting new way to pay for online purchases from Walmart.com – cash.
Nope, you don't stuff cash into your USB port. According to Walmart, all you have to do is order a product through Walmart.com, and then pay for it at a real brick and mortar Walmart store.
Ah, but that begs the question – why order online if you are going to have to go to a Walmart store anyway?
It's because Walmart.com has an even larger selection of items than what is available at physical Walmart stores.
While announcing the new program, Walmart stated:
"Now, customers can shop a broader selection of items online — hundreds of thousands more items beyond its stores — at Walmart.com and pay for them with cash at all Walmart stores in the U.S. and also in Neighborhood Markets. Walmart is the first major retailer to offer online purchases without the need for banking services or a credit, debit or prepaid card. "Pay with Cash" will help millions who rely on cash transactions, as well as those who are wary of using credit cards online, to shop Walmart's affordable and expanded online merchandise."
Here are the details of just how it works: First, a customer places an order at Walmart.com and selects "cash" as the payment option. They then select their shipping preference. Upon submitting the order, the customer receives their order number and prints their order form. The order form is taken to a Walmart store or Neighborhood Market, within 48 hours, and the order is paid for. The item is then shipped.
While Walmart does appear to be the first major retailer offering this option in-house, it's expected to be adopted by other retailers as well. A study done several years ago by the Federal Deposit Insurance Corporation (FDIC) suggested that about 25% of US households have no or limited banking options (an updated study is due out this year). That's a big, mostly uptapped, market for online retailers.