WebDrive 10.0, from South River Technologies, Inc, is a program that is designed to make life much easier for webmaster's, server admin's, and anyone else that ftp's files back and forth from their computer to their server.
It's billed as an ftp client – but that's an understatement. It also supports sftp, webdav, connects to Amazon's S3 storage solution, and to Sharepoint servers.
What is does, in a nutshell, is  'mounts' (virtually) the remote server onto your system, so it shows up like it's a hard drive. For example, let's say you are using Windows Explorer, when you go to open a file, you will see your server there, along with your 'C' drive. It will look, and act, just like you have your server on your computer as an extra hard drive. You can traverse directories, select files, change file names, edit the file, just like it was on your computer. The image below is an example, it shows the web server as drive 'W', and the root directory of the server, which can be traversed down to select files.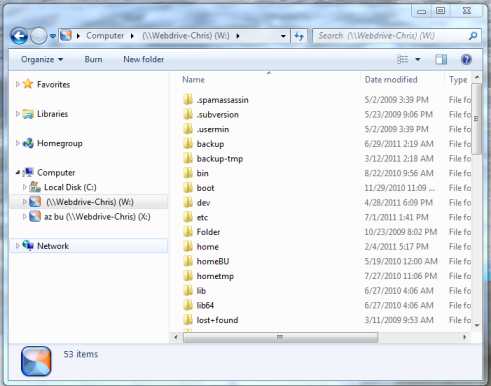 As a webmaster, I often need to make little edits here and there. It may be a php file, an html file, or an image. I used to have to open my ftp program, connect, download the file, edit it, save it, upload it, then exit the ftp program. What a pain.
After getting WebDrive, it's just a matter of opening the file, editing it, saving and… that's it. I have used a variety of programs on files through WebDrive, such NoteTab, PSP,  Paint.net, even OpenOffice. I've edited file types from .htaccess to php, html, txt, png, jpg, config files, templates, etc. Each time, WebDrive has worked flawlessly. I never have to think about it. I love programs that just work and I never have to think about them.
Just two weeks ago I upgraded from an older version of WebDrive to version 10.0, on a 64 bit computer, for this review. Version 10.0 was very easy to set up. I simply indicated that I wanted to set up an sftp connection, entered the server address, my username and password, and selected the drive letter I wanted it to have. In just a few minutes WebDrive 10.0 was all set up, connected, and working.
Connecting to Amazon S3 was just as easy. I am no expert on Amazon S3, but I do use it as a place store a back up copy of my important server files. A program on my server zips up those files and transfers them to Amazon S3. I use WebDrive to check that they are safely there.
But I also have some files on my local computer that I wanted to back up to Amazon S3. I thought to myself, "hmmm, wish WebDrive would do backups."
I did a little looking around, and to my surprise, I discovered that it does. And a little testing proved that it works just as easily as the rest of WebDrive. Selecting what files to upload was easy, scheduling was easy. The WebDrive backup utility also has options for downloading and restoring files that are backed up, and synchronizing existing files. Backing them up to Amazon S3 has worked well. Now I've have it set up to backup my important files each night and upload them to Amazon S3.
WebDrive is not a cheap program. But when considering what it does – saves time, makes edits easier, provides secure access to files, provides faster access to files (very important when a site is down I'm trying to get to it in a hurry to fix it), and doubles as a backup solution – that's a pretty darn good package for the money. A free trail version is available at http://www.webdrive.com.
Those of you who have read my reviews before know that they are not always this 'glowing'. But in this case, this program simply works, and works well. Unobtrusively doing just what it's supposed to do.