You can tell quite a bit about what a person uses their tablet for by the size of its screen. At least that is what a new study from NPD says.
The In-Stat study found that those of us with smaller screens, say 3 1/2 inches to less than 7 inches, use ours mostly for entertainment. Games, short videos, playing music, that sort of thing.
Those of us that use tablets with screen sizes from 7 inches to 11 inches tend to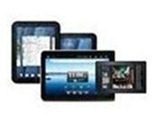 us them more for web browsing, sending/receiving e-mail, and for use with apps. They also found that users with the larger size screens use them more for watching videos and movies that those with smaller screens.
NPD said they expect that worldwide shipments of tablets with screens from 3 1/2 inches to less than 7 inches will decline over the next several years. Tablets from 7 inches to 8 1/2 inches are expected to continue to sale well. This is the range is the Amazon Kindle Fire falls into with its 7 inch screen. They also forecast that tablets from 9.7 inches to 11 inches will represent 65% of all tablet shipments over the next few years (forecasted to 2016), much of that due to the continued success of the iPad, which has a 9.7 inch screen.