Amazon has released their 'Best of' lists for 2011. The lists include best sellers, the most wished for, the most gifted, and the most loved products sold on Amazon during 2011.
This will not be a surprise if you are a regular CP reader – the Kindle Fire was Amazon's best seller in their electronics category. But best seller in the toys category was a bit of a surprise for us here at CP, it did not appear on any of our top Christmas toy stories – Rory's Store Cubes. The 'cubes' are dice with different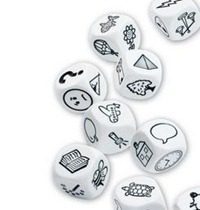 images on each side. When rolled, the player assembles them in any order and tells a story based on the images. The creative toy is referred to as a 'story generator'. We'll be getting some here and trying them out! Call of Duty: Modern Warfare 3 was tops in the video game category (of course). 'Steve Jobs' was the best seller in books, and the ad-free version of Angry Birds Rio was the best seller in the Amazon Appstore.
What were we 'wishing for' in 2011? No surprise here in the electronics section – the Kindle Fire. In books and video games the best sellers: 'Steve Jobs' and MW3, were also the most wished for. Apparently we have some knives to sharpen, as in the Tools & Home Improvement the most wished for item was Smith's PP1 Pocket Pal Multifunction Sharpener.
For the most gifted items, the Kindle Fire and 'Steve Jobs' pop up again as the most popular for their categories. But in the video game department, Just Dance 3 beat out MW3. Apparently underwear is a popular gift, as the Gerber 5-Pack Onesies Brand One Piece Underwear made it to the top of the most gifted list for clothing.
And finally, based on Amazon reviews, here's their most loved products. First off, Kindles overall were tops in electronics. In toys, the Syma R/C Helicopter made the head of the class. Another interesting one that missed our radar – "Fat, Sick, & Nearly Dead" was the top pick in the Amazon Instant Video category. Top pick for Amazon Wireless? The Droid Razr 4G by Motorola.